South Coast Botanic Garden a Nature Oasis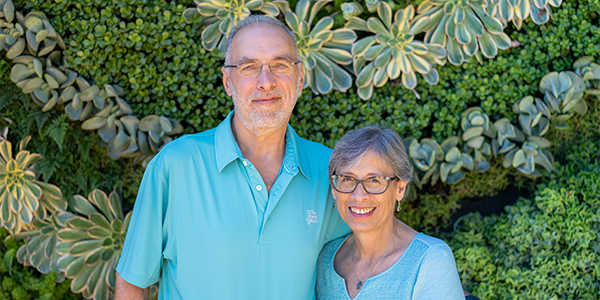 Joyce and David Peim have always been interested in nature, wildlife, and areas of natural beauty, and on their first visit to the Garden six years ago they were inspired to become members that same day.
When asked how they came to make the decision to support the Garden through a planned gift, their response was, "It's simple, when we created our will we wanted to recognize charitable organizations that mean a lot to us, and the Garden is one of those organizations. The Garden is an oasis for us, and knowing the Garden will be here for others in the future is important to us."
As members, they have been pleased to see the on-going improvements and evolution of the Garden. "We are very, very happy with the direction that the Garden is going. It makes us extremely happy knowing our money is going to an organization that is sustainable and professional."
In 2013, the Garden adopted the recommendations of a Vision Plan, currently underway, that calls for the expansion of collections, the opening of vista points, and the creation of new garden areas. It also has focused and pushed the Garden to improve the day-to-day visitor experience.
How the Garden focuses on new curated Garden experiences, especially for the next generation, nature preservation, and education, strongly appeals to Joyce and David and is also deeply important to them. "We live in such an urban area, and we like to take walks. Having the opportunity to take a walk in a garden and see all the nature and all the sights and sounds you experience here is different than what you'd experience in a neighborhood park."
We are forever grateful to Joyce and David Peim for making a significant investment in the Garden's future. Their planned gift will ensure that future generations will have the opportunity to benefit from, explore, and experience the wondrous powers and possibilities that this nature oasis, South Coast Botanic Garden, shares with us every day.
Giving to South Coast Botanic Garden is simple. If you would like to learn how you can support the Garden through a planned gift, please contact, Audra Platz at 424-452-0930 / [email protected]